Drying Technology
Gentle drying under vacuum
Among the thermal processes, vacuum drying has proven particularly effective in many sectors. The purpose of this process is to dry gently a high-grade product containing water or solvents without modifying the product characteristics.
During drying under vacuum, the total pressure in the drying oven is lowered so that the water or solvent vaporizes even at low temperatures.
The drying process is optimized by selectively controlling the heat supply and pressure.
A vacuum drying system basically consists of a drying oven with a heating system and a vacuum pump assembly, designed for a specific drying process with the associated control.
Phase diagram of water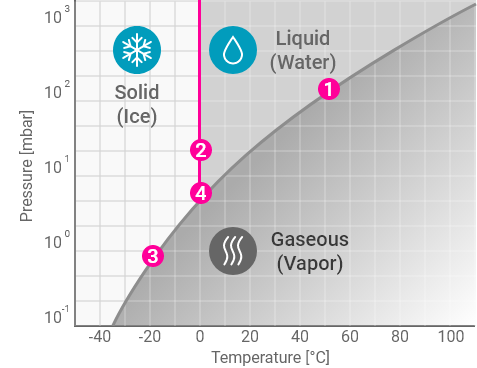 Condensation
Melting
Sublimation
Triple point (0.01 °C/6.09 mbar)
Vacuum drying systems / Isolators
The right systems for drying and process technology: for laboratory (VSD-e) and standard drying processes (VT), for a GMP / FDA-compliant process (VSD), for the safe drying of HAPI products (VSDI) and for pre-filtering and drying liquid, toxic products (VSDIN).
A suitable solution for each customer's requirements