Etching with low-pressure plasma
High-precision surface etching
Flexible application-optimized process
Virtually all sorts of organic material can be plasma etched. The etching effect is based on the same chemical reactions as the cleaning effect. Only the parameters such as time and intensity must be adjusted to the requirements.
In addition to oxygen, other gases can be used which increase the etching rate significantly. In most cases, fluorinated gases as CF4 are employed. The fluorinated radicals created in these processes are much more reactive than oxygen plasma. Their reaction products, however, must be retained by suitable filters.

Advantages of plasma etching
High crack penetration, therefore also suitable for micro holes
Virtually all dielectrics etchable
No toxic chemicals necessary
Simultaneous treatment of all holes
Low operating costs

Ecological and economical benefits
Compared with conventional wet-chemical methods, plasma treatment uses very little chemicals and the mainly used process gases (e.g. oxygen, nitrogen or CF4) are harmless, easily available and inexpensive.
Therefore there are no significant expenses for occupational safety or waste disposal. Energy consumption is relatively low and there is no need of a drying process of the components because it is a dry-chemical process.
Desmearing / Back-etching
One application in plasma technology is desmearing or back-etching of mechanically drilled circuit boards. This process can be applied simultaneously to both sides of the board and all holes. Due to the outstanding crack penetration of the plasma process, holes of < 0.3 mm can be back-etched, even materials such as Teflon.
Modern circuit boards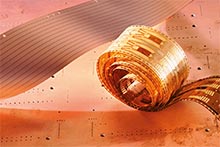 Modern circuit boards and many other electronic components base on high-grade films
Processing can take place both by plasma etching and plasma activation

Areas of application
Semiconductor industry
Circuit board industry
Microelectronics
MEMs