Vacuum soldering system VADU 200XL-W
Soldering of substrates and wafers in series production
The soldering system of type VADU 200XL-W is equipped with two separate process chambers and can be operated with paste as well as preforms.
The VADU 200XL-W enables the soldering of wafers up to 12 inch. Customized carriers are also offered by PINK.
This system allows the precise control of all relevant process parameters e.g. the temperature gradients during heating and cooling. Due to its intelligent temperature management the system provides short cycle times and an excellent temperature stability.
Vacuum soldering system VADU 200XL-W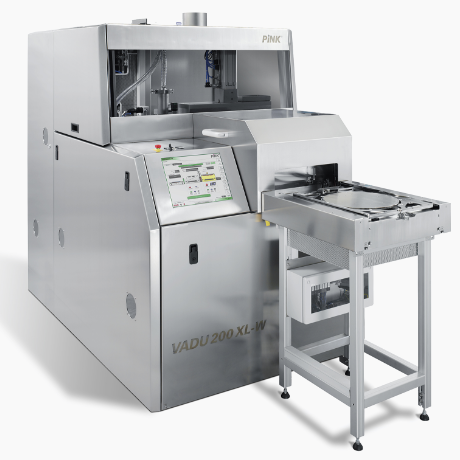 | | |
| --- | --- |
| Type of system | Batch system |
| Number of vacuum chambers | 2 chambers |
| Process area (W x D) | 410 x 320 mm |
| Clearance height | max. 100 mm |
| Vacuum (standard) | ≤ 2 mbar |
| Dimensions of the system (W x D x H) | 1,200 x 1,890 x 1,680 mm |
| Dimensions of pumping unit | Integrated |
| Weight | 1,200 kg |
| Power supply | 3 x 400 V, 50/60 Hz |
| Power input | 10 kVA |
| SMEMA interface | – |
| Carriers | Wafer up to 12" |

Options
| | |
| --- | --- |
| Handling / transfer systems | |
| Integrated MES interfaces (e.g. SECS/GEM) | |

System features
Void-free solder connections
Soldering with preforms and/or pastes
Individual soldering profiles
Process temperatures up to 400 °C
Controlled temperature gradients
Short cycle times
Separate soldering and cooling chamber
Flux-free soldering with formic acid
Flux management
Inert gas atmosphere
Residual oxygen content < 5 ppm
Reproducibility of the soldering results
Traceability
Permanent process control
Ethernet interface
Remote maintenance (VPN)
Low energy and media consumption
Compare systems
Type

VADU 100
VADU 200XL
VADU 300XL
VADU 400XL
Type of system
Batch system
Batch or Inline system
Inline system
Inline system
Number of vacuum chambers
1 chamber
with 2 separate process zones
2 chambers
3 chambers
4 chambers
Process area (W x D)


[mm]

168 x 280
410 x 280
410 x 280
410 x 280
Clearance height


[mm]

max. 50
max. 100
max. 100
max. 100
Vacuum (standard)


[mbar]

≤ 2
≤ 2
≤ 2
≤ 2
Dimensions of the system
(W x D x H)


[mm]

1,070 x 1,130 x 1,150
1,758 x 1,911 x 2,381
2,436 x 1,911 x 2,381
3,114 x 1,911 x 2,381
Dimensions of pumping unit


[mm]

Integrated
1,027 x 762 x 1,376
1,027 x 762 x 1,996
1,027 x 1,452 x 1,376
Weight


[kg]

500
1,500
(without pumping unit)
2,000
(without pumping unit)
2,600
(without pumping unit)
Power supply
3 x 400 V, 50/60 Hz
3 x 400 V, 50/60 Hz
3 x 400 V, 50/60 Hz
3 x 400 V, 50/60 Hz
Power input


[kVA]

5
19
27
35
SMEMA interface
–

Options

Handling /
transfer systems
Soldering temperatures up to 500 °C
Induction heating
-
-
-
Integrated MES interfaces (e.g. SECS/GEM)