Coating with low-pressure plasma
Functional coating of surfaces
A variety of coating options for many different materials
Low-pressure plasma technology is a process by which special functional groups can be deposited on surfaces. In this way, a defined coating effect can be achieved on many different materials.
Such plasma polymerization – so-called PECVD – is a relatively new coating technique, especially suitable for coating of plastics because of the low thermal impact on the substrate. However, it can also be used on an abundance of other materials such as metals, glass, ceramics, semiconductors and textiles.

Areas of application
Automotive and automotive component industry
Medical technology
Sealing technology
R & D
Packaging industry
The wide variety of coating properties obtainable due to the many variable process parameters is particularly relevant for industrial coating processes.
For instance, plasma coats can be a primer for subsequent processes. At the same time, such primer coats also can be used as corrosion protection.

Advantages of plasma coating
Wide variety of options regarding coat properties
Low thermal stress, therefore also suitable for temperature-sensitive plastics
High thermal and chemical stability of the coats
Resistant – even with extremely thin coats
In general, plasma-polymerized coats are highly cross-linked three-dimensionally. Therefore, they are thermally and chemically very stable.
Plasma coating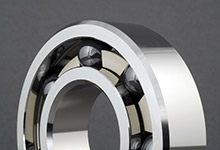 The runout performance of hybrid roller bearings (steel ring with ceramic rollers) can be improved by plasma coating
Foto: Cerobear GmbH
Coating options
Hydrophobic coats
Hydrophilic coats
Diffusion-proof coats
Biocompatible coats
Primer coats
Anti-icing coats