Services

For every customer requirement: services by PINK
PINK regards the requirements of its customers as a challenge and analyzes them carefully in order to develop optimum products that are superior to standard solutions. In doing so, PINK delivers the entire package from one single source.
Our services at a glance:
Consultation, planning and project design
Design & development
Mock-up studies for ergonomic product handling
Production
Software development, system control and visualization
Documentation, qualification and validation
Delivery, assembly, commissioning and training
Service and spare parts supply
PINK attaches utmost importance to the reliability and performance of its plants and the components used. All vacuum systems are helium leak-tested and checked with measurements of pressure rise. The tests are documented with a certificate.
PINK – the supplier for complete solutions
As a systems supplier, PINK not only builds individual customized drying ovens in a wide range of versions, but also supplies complete systems with the entire plant periphery. PINK optionally supplies the desired drying oven, depending on customer requirement, (in combination) with:
Vacuum pump systems
Heating / cooling combinations
CIP systems
Control and visualization
Remote maintenance (VPN)
21 CFR Part 11
DQ (Design Qualification)
IQ (Installation Qualification)
OQ (Operational Qualification)
GAMP 5
Automated charging and integration in existing production lines
User-friendly touch panel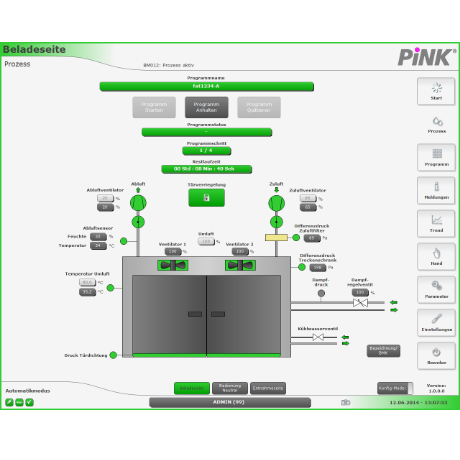 The plant is operated from a user-friendly touch panel with clearly structured and easy menu guidance, developed by PINK
Vacuum drying oven type VSD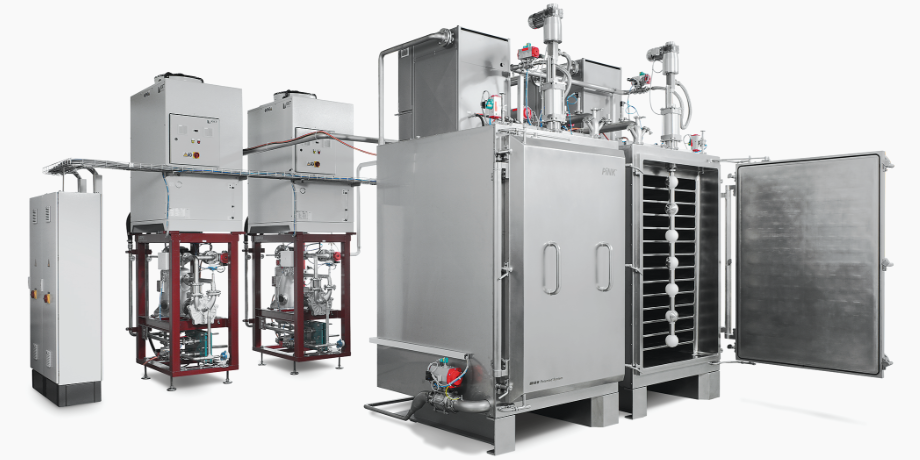 In a double-chamber version with the complete periphery – all from one single source