Vacuum drying ovens VSD-e
Compact and flexible for laboratory applications
PINK's VSD-e is a compact, high-grade vacuum drying oven designed to provide users in industry, science and research with a high performance, safe and clean system for the laboratory.
Thus, PINK is making the advantages of the VSD vacuum drying oven with its GMP/FDA-compliant design available for smaller laboratory applications as well.
The VSD-e has electric contact heating with an integrated control. Its operation only requires a plug socket and a vacuum device.
Vacuum drying ovens VSD-e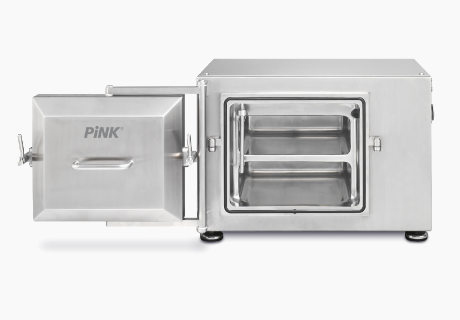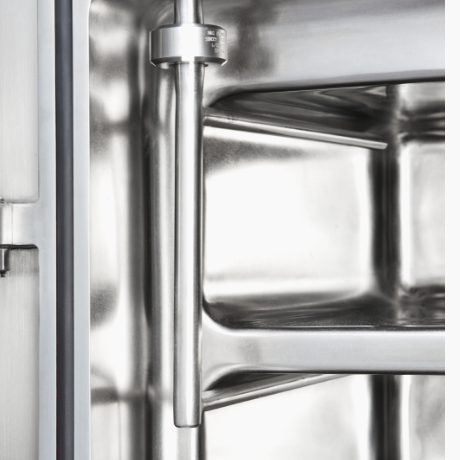 System features
GMP-/FDA-compliant design
Extra-compact design
For mobile and flexible use
No concealed surfaces
Rounded corners and edges (20 mm radius)
Simple cleaning
No penetrations for heating
Outstanding surface quality (ground and polished)
Double-jointed door hinge
Compare Drying systems / Isolators
Type

VSD
VSDI
VSDIN
VSD-e
Type of system
Vacuum drying oven
Vacuum drying oven
with isolator
Vacuum drying oven
with isolator and pressure nutsch
Vacuum drying oven
Drying principle
Vacuum, heat
Vacuum, heat
Vacuum, heat
Vacuum, heat
Shelf area1
[m2]
1 to 20
0.2 to 2
0.2 to 2
0.18
Heating
Hot water, thermal oil
Hot water, thermal oil
Hot water, thermal oil
Electric
Temperature


[°C]

max. 200
max. 200
max. 200
max. 200
Materials
High-grade stainless steels, special materials such as Hastelloy, Inconel and titanium
High-grade stainless steels, special materials such as Hastelloy, Inconel and titanium
High-grade stainless steels, special materials such as Hastelloy, Inconel and titanium
High-grade stainless steels, special materials such as Hastelloy, Inconel and titanium
Surfaces
Ground and polished2
Ground and polished2
Ground and polished2
Ground and polished2

Options

Charging trays (standard and pharmaceutical design)
Charging and support cart loading
-
-
-
Wall installation
-
Pass-through design with lock function
-
-
-
ATEX design
-
Automated loading and charging
-
-
-
Validable CIP
-
-
-
1 Other sizes available on request, 2 Electropolished on request