The flexible sintering system SIN 200+ modular
For extraordinarily reliable, highly thermally conductive bonds
The patented sintering system SIN 200+ modular is a highly flexible system, which is suitable for various production demands from laboratory up to series production, as the system is modular designed and can be operated as a batch system or an automated inline system with different preheating and/or cooling modules.
The substrate temperature, the atmospheric pressure and gas composition during the entire heating, sintering and cooling procedure within the vacuum chamber/s is exactly controllable at any time. In combination with the dynamic adaptability of the pressing force the system provides a wide array of novel process and production possibilities.

Options
Connection of pre-heating and/or cooling modules
Workpiece heating optional from top or bottom side
Other dimensions of the process area on request
Inline system SIN 200+ modular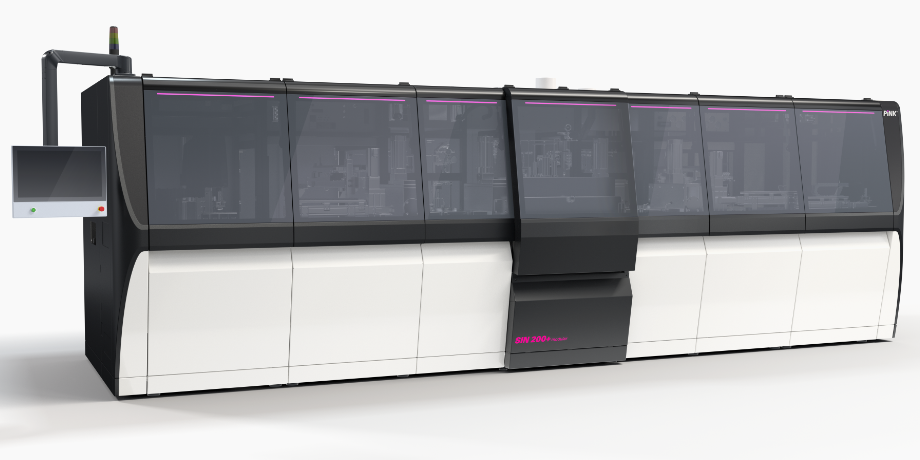 Automated inline system SIN 200+ modular with preheating, sintering and cooling module. Fully automated handling system for loading and unloading on PINK carriers as well as with transfer system with underfloor return and lifting units.

System features
Modular design with flexible expandability
Pressing force: up to 2,000 kN (200 t)
Dynamic controlled and monitored pressure ramps
Press tool exchangeable (e.g. for customer specific tool)
Programmable, controlled and monitored temperature profiles
Temperature range: up to 350 °C
Integrated heating technology
Hermetically sealed process chambers
Atmospheric pressure range: 1-1,200 mbar
Exact control of inherent gas atmosphere (N2, N2/O2, N2/H2, HCOOH)
Process area: ≤ 280 mm diameter
Manual or automatic loading and unloading
Patented system
Constant process control and traceability
Easy operation by touch panel
Integrated interface to MES (e.g. SECS/GEM)
A suitable solution for each customer's requirements