PINK application and R&D services
For soldering and sintering technology
Within a rapidly increasing and competitive market, fast process developments with highest yield and reliability are needed to satisfy the ever-growing demands for modern electronic devices.
With its application and R&D services PINK supports its customers from the very beginning of packaging development to series production. Starting with equipment demonstrations, soldering and sintering trials, PINK provides feasibility sudies of new packaging concepts incl. package assembly.
PINK also evaluates and improves UPH, yield and quality. Essential process knowhow is given to the customer's engineers and technicians by trainings. In case of process issues PINK offers continuous support.
Range of services
Consulting and concept development
Trials and demonstrations for customers
Feasibility studies
Prototype assembly
Process development
Process training and support
Applications for soldering/sintering
Die-attach
Substrate to baseplate
Die top side connection
Double-sided packaging
Multi-layer packaging
PINK equipment
VADU soldering systems
Sintering system SIN 200+
Plasma cleaning equipment
Additional equipment
Pick & place machine
Stencil printer
Test devices
Test DBCs with Au, Ag, Cu metallization
Dummy Si chips
Leadframes
In-house quality inspection
Microscopy
Mandrel-bending test
Surface tension measurement
IR camera
External analysis
X-Ray
C-SAM
Shear-tests
Cross sectioning
REM/EDX analysis
Example of a sinter process with paste

PINK at Productronica 2017 about sintering and application
From spring 2018: Opening of the new application and training centre of PINK GmbH Thermosysteme
Download:
Application
PDF 108 KB
Contact:
This email address is being protected from spambots. You need JavaScript enabled to view it.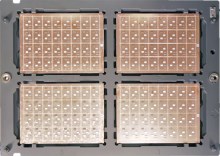 Soldering carrier for 4 DBC mastercards.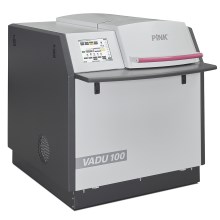 PINK soldering system VADU 100 for soldering tests.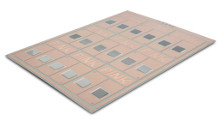 Test layout for soldering tests.